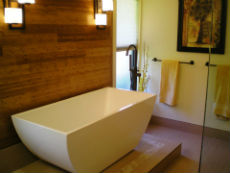 Remodeling a Southwest Florida Condo is both an exciting and confusing process for condominium owners.
It's exciting because you'll be able to upgrade your condo with the latest trends and features, but it can be confusing because there are often restrictions or limitations on the type of remodeling that can be done.
There may be restrictions in place that don't apply to owners of single-family homes because of shared ownership with a condo corporation or Homeowners Association covenants.
Remodeling may also be constrained by the simple fact that condo neighbors often share common walls.
Sunrise Remodeling provides condo remodeling services throughout Southwest Florida.
Please visit the following links for more information:
We also specialize in kitchen and bathroom remodeling, as well as cabinet refacing and Travertine stone tile and floors. The services we provide to customers throughout Lee County are backed by our reputation for honesty and trust.
And we guarantee our work with a 2-year labor warranty.
We'll work one-on-one with you to ensure the best possible service. Happy customers are our ultimate goal. We do our very best to work with condo owners who may have special requirements or restrictions.
If you plan to remodel a condo, there are a few things you should consider doing before starting any remodeling project:

Review your CC&R or Status Certificate. Your status certificate or CC&R (covenants, conditions, and restrictions) will let you know all of the rules that govern your condo, including any restrictions that may be in place for remodeling. It will specifically state which common elements (between neighbors) cannot be altered and, if permission is required, who you should talk to about getting it.
Hiring a contractor is a great option. Sometimes condo renovations are limited to certain hours of the day to avoid as much impact as possible on neighbors. Usually those hours are when the average person would have to be at work (e.g., 9 a.m. to 5 p.m.), so hiring a contractor who is available to work during those hours is essential.
Ask questions and get answers in writing. Status certificates are often written in complicated legal language, so you will most likely have questions about what is and is not restricted. Send an e-mail to your association to ask questions and get the answers in writing. Having this "evidence" later will be helpful if any conflicts arise. It will also help us understand specifically what can and cannot be altered.
Prepare properly. Some condos require you to reserve extra parking space for your contractors. You may also need to let someone know that Sunrise Remodeling will be using the freight elevator, if one is available. The security staff should be alerted that we will be there working on your condo. In the event we need to cut off electricity or plumbing to the unit, those arrangements should be made ahead of time as well.
Making sure that all of these elements are ready to go will make the entire remodeling process run smoothly. Remodeling is our specialty.We want to be sure that we won't violate any rules or regulations at your Southwest Florida condo.
Contact us today at (239) 246-9315 for a Free Consultation!