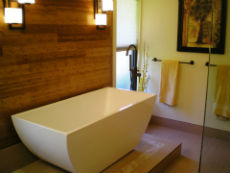 If you are considering selling your Fort Myers condo, then a rehab might be in order.
Buyers love to see updated features and appliances when they are considering an investment in a condo property.
Some upgrades give you more "bang for your buck" than others.
The kitchen is usually the biggest selling point, so you may want to put your focus there if funds are limited.
Sunrise Remodeling has been remodeling homes and condos for over 14 years and is the leading remodeling company in Southwest Florida. Our specialties are kitchen remodeling, bathroom remodeling, cabinet remodeling, and custom Travertine countertops and floors.
We love providing customers with the remodel of their dreams, so if you have an idea, talk to us, and we will do our best to make it happen. We've worked with many sellers who want to maximize their rehab in order to sell a condo for a higher price, and we'd love to share some of their tips with you!
Start with the Kitchen
Most people consider the kitchen the center of the home. Good meals and good conversation always seem to start in the kitchen. In some areas, upgrading the kitchen will return 90% of the cost, making it the most valuable upgrade available by far.
Avoid going overboard. If you're remodeling to fit your own needs and want to go all-out, go for it!
But, if you're remodeling to resell, it's important to get good results without a huge expense. Most buyers aren't willing to pay for anything too extravagant.
You should also keep function in mind if you're doing any major changes. Buyers like lots of counter space and usually gravitate toward U-shaped or L-shaped set-ups. They also like updated counter tops and faucets. Leaky faucets and stained or outdated counter tops are definitely hard sells.
Appliances and cabinets are sometimes expensive to replace, but they will usually pay off in the end. Refacing the cabinets is a less expensive option compared to completely replacing the cabinets. The process is fairly quick as well—sometimes less than a week. Regardless of how old the cabinets are, refacing makes them look brand new without the extra cost. Even a fresh coat of paint can make a world of difference.
Focus on the Bathroom Second
The bathroom is the second place where rehabs pay off the most. If you have the funds to update the bathroom and the kitchen, it will definitely be worth the effort. Again, if the remodel is for you, then do whatever you'd like—even adding in that funky leaf-shaped sink. But most buyers will enjoy something a little less trendy.
Stainless steel is always a good option, and most people enjoy room-enhancing light fixtures. Installing modern, comfortable flooring and extra cabinet space will also attract buyers. If your bathroom doesn't already have some type of linen closet nearby, that would be a desirable addition as well.
There are lots of rehab options available for your condo in Fort Myers, Cape Coral or Bonita Springs, including replacing the carpet, adding hardwood floors, painting, and adding more overall storage.
Sunrise Remodeling specializes in bathroom and kitchen upgrades and remodels.
Contact us today at (239) 246-9315 for a Free Consultation!