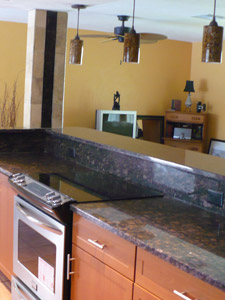 Consider undertaking a Fort Myers kitchen remodeling project?
In many households, the kitchen is the hub of all activity, but broken tiles, damaged counter tops or cabinet doors, and outdated appliances make the room less than comfortable for entertaining. A remodeled and attractive kitchen will also appeal to prospective home buyers more than a boring, outdated one.
We can help.
If your avocado green counter tops say 1970s but you want something more modern or contemporary, let us help you breathe new life into your outdated kitchen.
If you can't open the oven and refrigerator at the same time, we can help you redesign the space to make it more functional. We can work with you to identify your style, sort through all of the options, and incorporate storage solutions to design a kitchen that meets your needs.
Another factor is that, as homeowners age, they may need to consider making their homes more accessible to wheel chairs, walkers and other mobility devices. By remodeling the kitchen, we can enlarge entry and exit doors, and place counters and cabinets at lower level to make them easily reachable.
Sunrise Remodeling has earned our customers' trust by providing consistent, high-quality service, and bringing their projects in on time and on budget. Our vast experience with custom projects makes us your best alternative to less experienced kitchen remodelers.
The success of any remodeling project is in the details, and here are some of the features that make us unique:
Thorough – We walk you through the entire process from the initial planning and design stage, to permits, demolition, framing, plumbing, electrical, countertops, appliances, lighting, flooring, and other elements that will give you exceptional results. We ensure that every detail of your project is expertly installed.
Innovative – We explore ways for you to save money while maintaining high quality. We provide advice, cost estimates, and recommendations on materials and design alternatives that you may have never considered.
Professional – We arrive on time, do not subcontract, and provide you with a two-year warranty on our workmanship. Our Angie's List certification is evidence of our commitment to quality work and excellent customer service. When you trust us with remodeling your kitchen, we take the responsibility seriously.
One of the most important decisions you will make is who you choose to do the remodeling.
Remodeling a kitchen can be rewarding, but it can also be frustrating. Cost overruns and project delays are a few of the reasons homeowners avoid undertaking such a large project.
Sunrise Remodeling has more than 30 years of experience in the industry and is the leading remodeling company in Southwest Florida. Our specialties are bathroom remodeling, kitchen remodeling, cabinet remodeling, and custom Travertine countertops and floors.  We can help you create a beautiful kitchen that you will love.
Get in touch with us today for a free estimate on kitchen remodeling in Fort Myers. We have proudly built our exceptional reputation on trust and honesty and have a well-established track record of success.
You can also learn more about the services we offer specifically in Fort Myers by visiting these links:
Contact us today at (239) 246-9315 for a Free Consultation!