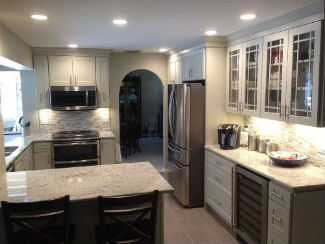 Remodeling your Cape Coral condo may require special preparation that you should know about.
Those who have not been through a large remodeling project are often confused by the process.
Can the area still be used? Can you stay in the home while it's being renovated?
For major overhauls, it is probably best to assume that you should not be in the area for the duration of the project. If you're a seasonal resident, this might work out great for you!
It always depends on the size and complexity of your project.
Sunrise Remodeling is your local Southwest Florida expert for kitchen and bathroom remodeling. We do everything from floors to cabinets and ceilings.
Our clients benefit from roughly 40 years of home improvement experience when they contract with us, and we take great pride in giving you results that meet or exceed your expectations.
Preparing For Your Remodeling Project: Potential For Setbacks
In the beginning, most of the preparation is mental. You may not be able to use the area that's being remodeled and some of the surrounding space for the duration of the project.
We can however work in "stages" and also have the logistics experience to properly plan your project so everything is completed as quickly as possible. We can also help you avoid common "setbacks" that are common with less experienced companies.
We want to ensure that your finished project not only looks and feels the way you want, but that it's also safe and up to code.
Preparing For Your Remodeling Project: Area Preparation
It is important that the area where we will be working is free of personal items and debris. Our job can be completed much faster if you take the time to pack up your belongings and move them to another location.
Before We Arrive, You Should:
Remove all personal belongings from the cabinets and any affected storage locations.
Take down wall hangings and other decorations.
Be sure that the area is clean and ready to be used.
Remove fragile items that surround the work area as well. Vibrations during the remodel could cause them to fall off of cabinets, dressers, and walls.
If you are doing a kitchen remodel, you may need to set up a make-shift, temporary cooking area for a short time. Consider the best spot for this location. You will need electricity, storage, and possibly a sink. Portable appliances like griddles, fryers and microwaves are great assets in temporary kitchens.
Ideally, you will have this area set up before the remodel begins so all of your appliances and personal belongings are out of the workspace.
We will take every available precaution to be sure that your condo is safe for you during the remodel.
At Sunrise Remodeling, our goal is to provide amazing condo remodeling in Cape Coral and the surrounding areas.
Contact us today at (239) 246-9315 for a Free Consultation!