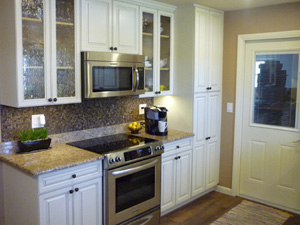 Are you tired of the kitchen in your condo?
Is it in serious need of an update?
Sunrise Remodeling can help with your kitchen makeover in Bonita Springs.
We always have a few suggestions on what to change that will have the greatest effect on your kitchen's overall look, and we would love to share these ideas with you!
Sunrise Remodeling has 40 years of remodeling experience, and we are pleased to be able to use that experience to help with your project.
We specialize in kitchen and bathroom remodeling from flooring to lighting. Our other services include customized shower enclosures, cabinet refacing, travertine stone work, and tray ceilings.
We can turn your living space into a work of art!
Kitchen Makeover Suggestions
Creating the perfect kitchen means making the space fit your unique needs. It also means that you can adjust the colors, shapes, and sizes of virtually every countertop, table, and fixture. We would suggest making the following changes to your kitchen to give it new life and visual appeal.
Change Out The Cabinets Or Reface Them.
Whether you want completely new cabinets or the ones you have just need a face lift, changing the cabinets can completely change the look of your kitchen. If the cabinets are falling apart, then we would suggest getting entirely new cabinets. You can choose virtually any color or layout to fit your space.If your cabinets just need new faces, then you can try refacing. Refacing the cabinets means that the fronts of the cabinets are removed and replaced. The sides are also covered to match the front paneling. Changing the color or even just the handles on your cabinets can make a big difference in the overall look and feel of your kitchen.
Change Out The Countertops.
The countertops are probably the second-most eye-catching feature of your kitchen. Even if they are covered with appliances, family and friends will notice if your countertops have been updated. Try a lighter color to brighten up the room, or a darker color to add a touch of class or elegance. If your cabinets are light, a darker countertop might be a good way to balance that out.
Add An Island.
Counter space is vital for food preparation in any kitchen, but an island can double as a table and a food preparation space. If you've decided you don't want a kitchen table, an island could be a good solution. They are often raised to be useful for food preparation, but you can add higher chairs or stools to use them as seating space.
Update The Sink.
Stainless steel sinks are a classic, but they definitely don't have to be boring. There are a wide variety of sink options, including those that can be activated by touch. Adding a visually appealing sink will increase the elegance of the room without taking away from the functionality.
Add New Appliances.
While Sunrise Remodeling does not supply appliances, we often find that homeowners will update the appliances at the same time that they remodel their kitchen. This is a great way to update the whole space for a finished look.
We can help you find the products you're looking for to complete your renovation.
Whether you are doing it for yourself or getting ready to sell, Sunrise Remodeling can help you remodel your condo in Bonita Springs.
Sunrise Remodeling specializes in high quality condo remodeling in Bonita Springs.
Contact us today at (239) 246-9315 for a Free Consultation!