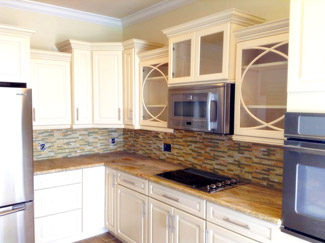 If you want to include tray ceilings as part of your condo renovations in Bonita Springs, then Sunrise Remodeling can help.
Adding height can really make the room look bigger, and a great way to do it is with tray ceilings.
Installing a tray ceiling will cover unattractive concrete ceilings, and will give the illusion that the ceiling is much higher.
It can also add an accent or touch of color that will bring the room together.
Sunrise Remodeling specializes in installing tray ceilings.
We also do kitchen and bathroom remodeling, cabinet refacing, customized showers, and travertine stone work. If you are considering a condo renovation, then we can help with nearly every aspect of the project.
Our 40-plus years of remodeling experience can help you create a space that is uniquely yours.
The Benefits Of Tray Ceilings
Tray ceilings can easily become a focal point of any room, or they can be designed just to add a touch of class to a room. A tray ceiling has one or more levels of ceiling, and the middle portion is generally higher than the surrounding area.
Tray ceilings provide a classy, refined look that your family and guests are sure to love.
They also offer many other benefits.
Tray ceilings give an illusion of height. Even when your actual ceiling is no taller than the rest of the condo's ceilings, adding those extra layers makes it look much taller. This height provides an open feel to the condo that would be difficult to replicate otherwise. It is also much less expensive than adding on, and may be the only realistic way to add space to a condo.
They are a great way to hide lighting and ceiling fans. There is often no way to hide recessed lighting in unattractive cement ceilings. Adding a tray ceiling will drop the height slightly, but you can enhance the room by including levels of attractive lighting instead of using hanging lamps. Installing a ceiling fan is also much easier because you can hide the wiring above the tray ceiling as well.
They add visual appeal to any room. If you are planning to sell your condo someday, adding an attractive tray ceiling may increase the overall value of the condo. It will also provide a feeling of spaciousness for prospective buyers as soon as they walk in the room. You can also add color to the levels to create an eye-catching accent.
Add unique coloring or materials. Tray ceilings can be more than just drywall and paint. You could paint the drywall a dark color or use paneling to create a unique focal point for the room. The coloring can quickly lighten or darken any room. A unique wallpaper or artwork can also be added for a very unusual, but artistic look.
Add extra molding for an elegant look. If you create a tray ceiling with additional molding to fit your room, it will not only create the illusion of depth, but will also add an elegant design that makes the entire room look much richer. If you are going for high-end elegance, a tray ceiling is a cost-effective way to achieve that goal.
Sunrise Remodeling can definitely help you install the perfect tray ceiling for your space. We can also install ceiling fans and lighting during your condo renovations in Bonita Springs.
Give us call for a free estimate!
Contact us today at (239) 246-9315 for a Free Consultation!