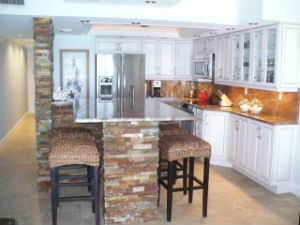 Some condos in Cape Coral have rules that restrict what kind of rehab work can be done.
This can be a serious problem for someone looking to modernize the space either for themselves or to resell the property.
However, even the most restrictive condo associations will usually allow owners to reface their cabinets if replacing them completely isn't an option.
Sunrise Remodeling specializes in kitchen remodeling, including cabinet refacing. We can turn even the oldest-looking cabinets into something that looks brand new by refacing them.
If your cabinets have really deteriorated and need some serious TLC, however, replacing them may be a better option. Cabinet refacing will not fix deterioration or damage.
What is Refacing?

Refacing a cabinet basically means that we remodel the doors and drawers on the outside of the cabinet. We can either replace them completely or simply refinish them. Generally, completely replacing the doors and drawers will give you a new, finished look.
If you're happy with the current layout of your kitchen but simply want a facelift, cabinet refacing will provide you with a wide variety of choices. If you want to completely change the layout of your kitchen and move things around, it will probably be necessary to replace the cabinets.
The Process
In general, custom cabinet refacing will provide you with better quality doors and drawer fronts than purchasing builder-grade cabinets. You'll select from dozens of veneering options and colors, and then we'll add new trim, molding and hardware to give the cabinets a completely new look.
Cabinet refacing usually takes a few days to complete in comparison to full cabinet replacement, which can take several weeks. The mess and disruption are minimal, and you'll be able to continue using the kitchen while we do the work. This method also requires less plumbing and electrical work and, in many cases, you can keep your existing countertop (unless you want to replace it).

The visible parts of the cabinet frames are typically covered with matching wood veneer to ensure that the finish matches all the way around. Unless your cabinet boxes (the part attached to the wall) are somehow damaged and in need of repair, there is really no need to replace the entire assembly. This is the primary reason that cabinet refacing can save homeowners a significant chunk of their remodeling budgets.
Using a Professional
Cabinet work can be a complicated process, so it's best to have experienced professionals take care of it.
For example, when replacing the cabinet doors, it is best to have about an inch of overlap on each door to be sure the cabinet frame is completely covered. Some stores offer stick-on veneer for do-it-yourself condo owners, but, depending on the product, this process can actually make your cabinets look cheap and unfinished.
Letting a professional take care of your cabinets is really the best option, especially if that professional is Sunrise Remodeling. We specialize in cabinet refinishing, refacing and custom cabinetry, and we can get your kitchen upgraded quickly. We have been in the remodeling business for over 14 years, and our owner, Brian Dunn, has been remodeling homes for over 30 years.
At Sunrise Remodeling, we're not just remodeling experts, but we also pride ourselves on giving customers an outstanding, one-on-one experience. If you want to discuss the rehab of your Cape Coral condo, turn to our experts.
Contact us today at (239) 246-9315 for a Free Consultation!