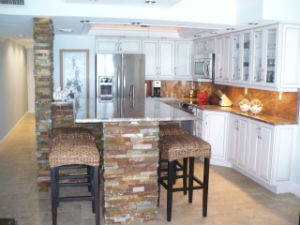 Condos are a great investment for those who want a smaller place to maintain, but many condo owners in Fort Myers want the smaller space without having it actually feel smaller.
That is where condo renovations may come in handy.
There are many ways to renovate to make even the smallest condo look and feel larger than it actually is.
Sunrise Remodeling specializes in bathroom remodels and kitchen renovations, including cabinet refacing. We also do floors, customized showers, and ceilings.
If you want to make your small condo space feel larger, there are lots of ways that we can help.
There are also some simple ways to make the space feel larger without going through an extensive remodel. It might be a good idea to try these simple ideas first, and then contact us for remodeling services if these ideas aren't providing the desired effect.
Use furniture that has exposed legs.
Do not fill up every inch of your shelves.
Use drapes that match the wall color (or avoid window coverings altogether).
Go with smaller patterns if you prefer prints.
One or two large pieces of furniture may work better than several small pieces.
Use multi-functional furniture, such as ottomans (which serve as both seating and storage).
Install a floor-to-ceiling bookshelf.
Use as much natural light as possible.
Hang mirrors to reflect light.
Use glass end tables and coffee tables.
Try using furniture that will fold or roll away when it isn't needed.
Sometimes these simple tricks just aren't enough, and a more extensive remodel is necessary.
Consider these options:
Install tray ceilings. Tray ceilings use recessed lighting and trim to give the illusion that the ceilings are much higher than they actually are. Having the right paint colors on the ceiling will also enhance this illusion.
Let more light into the space. Adding large windows or sliding glass doors is not only a great way to brighten up a room; it also makes any space seem larger. Windows also bring in lots of outdoor color, which can enhance the indoor-outdoor feel that Southwest Florida residents love.
Add additional storage space. Sometimes spaces just seem smaller because they are cluttered with things. Adding extra storage, like closets or even built-in shelves, can remove some of that clutter and make the space feel more organized.
Use the same flooring throughout the space. Using the same type of flooring will make the rooms feel much bigger. Using the same flooring from the kitchen to the living room, for example, will make them feel like they are one large, connected room. If keeping the same flooring isn't an option, then try to at least stay with the same color theme.
Use light or neutral wall colors. By using brightly colored furniture or artwork, the walls almost seem to fade away, making the entire space seem larger.
Remove doors or use pocket doors. Eliminating the doors will definitely make the space feel more open. If you must have a door, however, a pocket door is a good option. It will slide into the wall when not needed.
If you think renovations for your Fort Myers condo may be the best way to solve your space problems, we can help! We can provide space-saving ideas you may have never considered.
Contact us today at (239) 246-9315 for a Free Consultation!