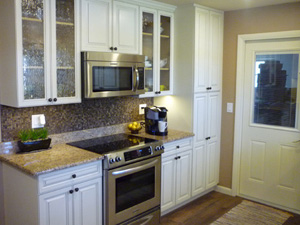 Having the perfect shower space for your condo in Bonita Springs installed is a great way to rehab your bathroom.
Your bathroom can be a place to relax, unwind, and rejuvenate, but it can't provide these much needed services if you're not happy with its design.
One of the ways to make your bathroom fit your unique needs and personality is by installing a customized shower enclosure.
There is no need to fit a pre-designed shape into your bathroom when you can create a shower that was designed just for your space.
At Sunrise Remodeling, we specialize in custom condo rehab projects for our customers.
Sometimes an ordinary design just won't fit a particular space or even a particular condo-owner's personality. We can help by developing a layout and shape that is perfect for what you have in mind, whether that is a corner-based shower stall or a large walk-in shower.
We also specialize in all other aspects of bathroom and kitchen remodeling.
Creating Your Customized Space
The pre-designed bathroom features that many remodeling companies offer may not be the best option for you for several reasons. For example, they may not fit your bathroom, your personality, or your budget. Customizing your shower can be a great alternative and will allow you showcase your unique style.
There are several ways that you can do this:
Enlarge your shower space. We have built showers for two and showers that are nestled in the corner. If you want to indulge in a larger, luxurious shower, then customization is a great option.
Add unique shower doors and glass. Sunrise Remodeling specializes in frameless showers. These showers create a unique showering space while also giving the illusion that there is still plenty of space left in the bathroom. Unique wall and glass combinations are also available.
Travertine designs.  Travertine stone is a great way to add a classy bit of color to your bathroom. You can use all travertine or include accent tiles both inside and outside of your shower. There are many color and design varieties available.
Adding unique storage spaces. Storage is important in the shower as well. Sunrise Remodeling can create a storage solution that is perfect for your individual situation. For example, we can install towel racks and shelving that is directly attached to your customized shower. Using a customized design will ensure that your storage solution not only works great for you, but also matches perfectly.
Add unique lighting. Many people do not realize the effect that their shower lighting has on their bathroom experience. Some prefer bright lighting while others like more relaxed, dimmer light. Sunrise Remodeling can adjust your light fixtures to suit your personal preference.
Of course, we can also help you with complete bathroom makeovers in addition to customizable shower options.
Turn your bathroom into your personal oasis by making it uniquely you. We can install vanities, flooring, and create unique lighting for your bathroom. There are many options for storage as well.
At Sunrise Remodeling, we love to see our customers happy with their homes!
We would be delighted to help you with your condo rehab in Bonita Springs and create a unique bathroom design that will make the space more effective for your needs.
Contact us today at (239) 246-9315 for a Free Consultation!