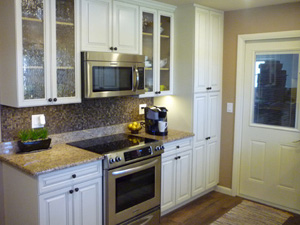 Renovating often means that the homeowner wants to add more natural light to their space.
This can be difficult, however, if you're prevented from adding skylights or more windows.
Nonetheless, there are renovations that can be done to your condo in Cape Coral to make it seem brighter without making any major changes.
Sunrise Remodeling specializes in kitchen and bathroom remodels, and we know how to create brighter spaces that your family and guests will love.
We can get you started with flooring, customizable fixtures, cabinet refacing, and so much more.
If you need help to brighten up your condo, then you have come to the right place. Try a few of the following suggestions to get started.
Kitchen Remodeling Suggestions
Having brighter spaces always makes a room look bigger than it actually is. Make your space look brighter and bigger by:
Using lighter countertops. Updating the countertops is a great way to easily put new life into your kitchen. Lighter-colored counter tops can make the space seem brighter, bigger, and generally more welcoming. Try a medium-dark cabinet with a bright countertop for an instantly classy effect.
Using lighter cabinets. In most kitchens, cabinets take up a significant amount of space. When you go into the kitchen, cabinets are one of the first things that you see. Add brightness by using lighter cabinet facings. You can do this by painting or refacing your cabinets, but you can also completely replace your old cabinets. Refacing is often less expensive, but it will depend on the condition of the cabinets that you want to reface.
Open up the kitchen. Creating an open floor plan with your kitchen will let some natural light in if there are no windows in the space. Try using half walls or islands to great a bright, open feel.
Bathroom Remodeling Suggestions
Many bathrooms have no windows at all, and there is usually no way to bring in natural light. Instead, you have to work toward creating the illusion of natural light.
Install natural lighting in your fixtures. One simple fix is to replace your light bulbs with bulbs that mimic natural light. These work best with light fixtures that are not completely covered. Recessed lighting works great with these faux natural light bulbs.
Lighten up the paint. If your bathroom is painted, go with a lighter color such as a classic white, beige, pastel, or cream. The lighter color will not only make the room feel bigger, but will give a bright, airy feeling to the space. You can add darker accents in the decorations, the fixtures, or flooring.
Use light-colored fixtures and frameless showers. Lighter colored sinks, tubs, and showers will make the space seem larger and brighter as well. Using a frameless shower will allow light to pass through in a unique way, and make it seem as though you enlarged the room. Keeping your space as uncluttered as possible will also help create a bright, open feel.
Sunrise Remodeling provides Condo Renovations In Cape Coral and the surrounding areas. We would love to help you with the remodel of your condo!
We are happy to give you specific suggestions unique to your condo to work toward making a brighter, airier space for you and your loved ones.
Contact us today at (239) 246-9315 for a Free Consultation!