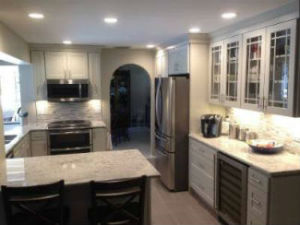 Have you thought about the colors you want to use in your new kitchen?
This is one of the key decisions you'll have to make during your Cape Coral kitchen remodeling project. We can help you decide between bold and contemporary, rich and classic, and everything in between.
Colors are a delightful way of conveying your personality to family and friends who visit your home.
Are you sophisticated, outgoing and fun, trendy, quirky?
Share your color ideas with your kitchen remodeler, look for inspiration in magazines and home improvement centers, and let the design process evolve.
Kitchen Color Trends
Classic White – It's likely that white kitchens will always be a consumer favorite for kitchens due to their timeless style. But consider using color as an accent. You could paint one wall to bring beautiful color into your kitchen, and easily change it later if your tastes change.
Indigo Blue – This long-term classic color has gained popularity in recent years for interior spaces. It creates a wonderful contrast for white cabinets and coordinates well with stained finishes and various shades of gray. Of course, it will always be the go-to color if you want a nautical or Mediterranean décor.
Neutral Gray – Gray makes a great neutral backdrop and is easily combined with either darker or lighter colors. If you've chose dark charcoal cabinetry and granite countertops, consider soft gray walls and a pale, grayish-white ceiling. Also consider textured and patterned cabinets to play up the sleek sophistication of gray.
Olive green – This is another current color trend for kitchens that's warm and organic, and easily blends with just about any accent color, such as rust, aubergine or dusty mint.
Purple – Shades of purple can give your room an unmistakable richness. If you're looking for something bold and trendy, incorporate purple kitchen cabinets. But avoid overwhelming the room with too much purple. Instead, use cool, neutral shades for walls, countertops and floors.
Orange – Orange is perfect for people who have playful personalities. It's bright and can bring freshness into a small space. But, much like purple, it's best used in moderation. Balance it out with gray, white or even light blues.
Black – If you love a minimalist, contemporary look, it's hard to beat classic black and white. Create clean lines with glossy surfaces and black cabinets for a sophisticated look. Use splashes of red or another bright color to highlight certain areas.
Red – Red is a great color for a classic, retro look, but it can also be vibrant and contemporary. Enhance your color scheme with wood floors or black countertops, both of which coordinate well with red.
Colorful kitchen cabinets are definitely here to stay.
But beware of new color trends for permanent things like your cabinets and countertops. If a certain color catches your eye, try it out on curtains or throw rugs to be sure you like it.
Sunrise Remodeling offers kitchen remodeling in Cape Coral, Fort Myers, Naples and Bonita Springs.
We have over 30 years of experience in the industry and are the leading remodeling company in Lee County and throughout all of Southwest Florida.
To learn more about the kitchen remodeling services we offer in Cape Coral, use the following links:
Contact us today at (239) 246-9315 for a Free Consultation!