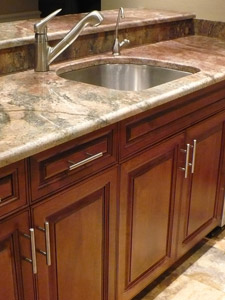 Do your cabinets make your kitchen or bathroom look dull and tired? Do you want a new look?
If you can't afford to replace your current cabinets or are happy with the layout but not the style, take a look at your options for cabinet refacing in Cape Coral.
Sunrise Remodeling specializes in cabinet remodeling and can give your cabinets a fresh, contemporary look by refacing them instead of replacing them. With more than 30 years of experience in the industry, we have built a reputation as Southwest Florida's most trusted remodeling company.
If you are debating whether to replace your old cabinets or reface them, the following questions and answers may help you decide:
What is cabinet refacing?
Refacing cabinets involves removing old cabinet doors and drawer fronts and replacing them with new ones.
When you want a brand new style or your old kitchen or bathroom cabinets are damaged, or dull and boring, refacing them can give your entire room a much needed makeover and is far more economical. Refacing is generally done by veneering the cabinet boxes with a real wood veneer, such as oak, cherry, walnut, birch or maple. Veneering has been done for centuries but should be done by a professional craftsman to get the best results.
Can all cabinets be refaced?
Although it's mostly hidden, the cabinet "box" is the backbone of your cabinets.
It serves as the supporting structure for cabinets that have to hold hundreds of pounds of dishware, food and appliances, and for drawers that are opened and shut thousands of times over the years. As long as the boxes are structurally sound, the cabinets can be refaced. And, in this case, age may actually be an asset. In many cases, older cabinet boxes are stronger than those that have been replaced more recently with less expensive materials, like particleboard.
Is it less expensive to have my existing doors and drawers refinished?
The condition of the doors and drawers is an important factor.
As long as the wood hasn't warped or had water damage, scratches can be sanded out and a new coat of stain and varnish can be applied to bring the old cabinets back to life. But professional stripping, sanding and refinishing can be time-consuming and expensive. Refinishing also uses the original door styles, so you would not be able to change to a different style without refacing. Cabinet refacing is generally lower in cost than refinishing.
How long does cabinet refacing take?
Once you choose the style that meets your needs, new doors and drawers are custom made to fit the exact measurements of your cabinet openings.  This process may take four to six weeks. After the materials have arrived, it's a simple matter of removing all of the old doors and drawer fronts and setting new ones in place. Depending on the size of the job, installation generally takes three to six days.
The other obvious question about cabinet refacing in Cape Coral would be the cost.
The price is determined by the number and size of doors and drawers, the type of wood you choose, and other elements that are unique to each kitchen or bathroom. Our prices are very competitive and we are happy to answer any questions you have about the process.
Call Sunrise Remodeling today at (239) 246-9315 for a Free Consultation, and let us help you save time, money and frustration while creating an amazing new look for your kitchen or bathroom.
Contact us today at (239) 246-9315 for a Free Consultation!