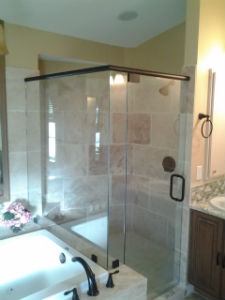 When you're ready for bathroom remodeling in Bonita Springs, get in touch with Sunrise Remodeling, the top remodeling company in Southwest Florida, for innovative ideas on getting the most out of your available space without breaking the bank.
We'll walk you through the options and help you save time, money and aggravation on your remodeling project.
From the initial planning stage, to permits, framing, electrical, plumbing, glass, flooring, tile, countertops and cabinets, to anything else the job requires, we estimate, build and inspect every detail of the work until you are completely satisfied.
Designing a better bathroom may look easy, but you'll need a well thought-out planning strategy to get the best results.
Consider these tips:
Every municipality develops building codes to keep you safe. Make sure you know what your city requires before you start any significant remodeling, otherwise you may have problems when the time comes to sell your home.
Most homeowners go over budget, at least slightly, on home renovations of any kind. The wise thing to do is to build in an extra 15 to 20 percent in case your contractor discovers that your bathroom has dry rot, mold, electrical problems, old plumbing or poor water pressure. Crossing your fingers and hoping for the best is another option, but probably not the best one.
If you're not sure what you're doing, get professional help. Leaks from poorly installed plumbing causes a lot of damage. About 70 percent of home accidents occur in the bathroom, and compromising your family's safety from electrical shocks, accidents on slippery surfaces, or toxic mold, will cost you more than doing it right the first time.
You can never have too much storage. A bathroom with limited storage ends up looking cluttered all the time. We all need shelves, cabinets, drawers and hooks to absorb the towels, shampoo, soap, hairdryers, cleaning supplies, and hundreds of other things we keep in the bathroom. Corner shelves are a great way to get more storage without taking up space. And consider carefully whether you're willing to give up all that cabinet space before you install a sleek pedestal sink.
Think ahead. If you plan to sell your home in the near future, incorporate quality workmanship and classic styles into your design. Potential buyers will probably prefer a double vanity to a big claw-foot tub, and you won't want to remodel the bathroom again anytime soon.
Toilets made before 1980 can use more than five gallons of water per flush. You might be able to get a rebate from the city for replacing it. If nothing else, you'll save a lot of water and cut down your water bills by installing high-efficiency toilets and low-flow showerheads.
Improve the ventilation. The humidity and excess moisture that gets trapped in bathrooms can cause mold and mildew problems and will eventually rust anything metal in the room. A window, if you can add one, is a great solution. Not only does it improve ventilation, but your bathroom will look larger as a result of all the natural light.
Are you ready to give your bathroom a whole new look? Sunrise Remodeling specializes in cabinet refacing, Travertine countertops and floors, kitchen remodeling and bathroom remodeling in Bonita Springs throughout Lee County.
To learn more about the specific bathroom remodeling services we offer in Bonita Springs, visit the following links:
Contact us today at (239) 246-9315 for a Free Consultation!