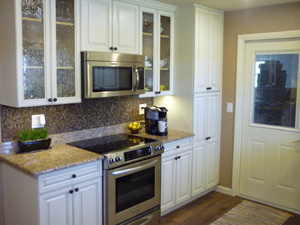 Are you remodeling your kitchen or bathroom?
Want beautiful, functional new cabinets that will be the envy of your neighbors and also add value to your house?
Sunrise Remodeling is the only provider of real custom cabinets in Bonita Springs.
So what's the difference between real custom cabinets from Sunrise Remodeling and the slightly customized cabinets offered by other remodelers and cabinet makers?
Real custom cabinets are made from scratch, which allows true 100% customization in terms of size, design, materials, color, and fit. To make cabinets like this requires a dedicated shop where craftsmen create all the parts to each customers' specifications.
Sunrise Remodeling is the only remodeling company in Southwest Florida that has its own shop with dedicated cabinetmakers. 
Here are some tips on how to select custom cabinets that will make your home really shine:
The right fit:  As you plan your cabinets, the first concern will be the right fit. Pre-made cabinets just don't deliver the kind of standard you're probably looking for, and they generally leave unsightly spaces as well. You also may not get the cabinets and their shelving at the exact heights and widths you want.And that doesn't even address look and quality of materials.As you plan your cabinets, think about how you plan to use them as well as the surrounding space. If you have certain kitchen appliances you want to store under your cabinets, they should fit. What about storing your taller items, such as olive oils, wines, balsamic vinegars, and other essentials in your cabinets? Again, the space should be designed to fit your needs.Another important consideration is your own height and how high you can comfortably reach.You may want to have as much shelving as possible that you can comfortably reach without needing a stepladder. With fully customized cabinets, getting a perfect fit will be no problem at all.
The right look: While the perfect fit is definitely part of the right look, there are additional considerations including style, color, finish, and even the hardware. Combining all of these elements to create a beautiful, bigger picture is something you should always keep in mind. Browse websites and also home decor magazines and begin to print and save examples if cabinets you like.Whether you want bold colors, a sleek modern look, or something more traditional, a true custom cabinet specialist will be able to help you make it a reality since they have complete control over crafting your cabinets to your exact specifications.
At Sunrise Remodeling, we have 14 years of experience with creating the highest quality cabinetry, and we make them according to the exact specifications of our customers. Learn more about what we do on the following pages:

We're not only the leading remodeling company in Southwest Florida, but also the only one that has our own custom cabinetry shop and creates true custom cabinets from scratch.
Our teams of designers and master craftsmen work closely together from planning and designing all the way to finishing your project. We pride ourselves of our superb workmanship and are confident that you'll be very pleased.
Contact us today at (239) 246-9315 for a Free Consultation!