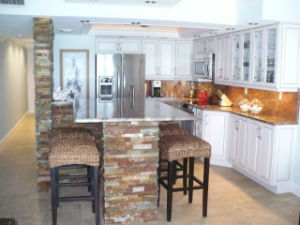 Planning your Bonita Springs kitchen remodeling project can be a Herculean task loaded with more decisions than you ever thought possible.
Cabinets, appliances, lighting, counter tops, floors, hardware and more – we can help you make the best choices to fit within your budget
Kitchen Floors
You may want to reface/replace your cabinets and install new appliances before even considering the floor.
This decision may save some money and time, but can be the cause of some common headaches:
If you completely reconfigure the footprint of your kitchen cabinets, an inexperienced flooring contractor may attempt to patch the gaps;
Your brand new or refaced cabinets may suffer scratches and other damage during floor installation;
Toe kicks and shoe molding underneath cabinets often look like afterthoughts;
If you plan to install kitchen island cabinetry, it's preferable for the legs to rest on top of the floor;
Your kitchen floor may have an older style of tile which is no longer available. Unless you replace the floor, your cabinets and appliances will have to follow the original tile footprint;
In a hurricane-prone region like Florida, you may eventually need to pull out cabinets, and this is far easier to do if the cabinets sit on top of the flooring.
Kitchen Lighting
The right lighting choices will make your kitchen functional and put adequate light where you need it most. A well-designed kitchen will incorporate different types of light. It's also a safety matter; you will want to see clearly when using sharp kitchen knives, for example.
Trying to light the whole kitchen with one big ceiling fixture will overpower everything in the space and create glare. A good combination of task, ambient, accent and decorative lighting is your best bet.
Installing recessed down lights in a high ceiling to create ambient light results in a lot of wasted light and a very dark space.
Incandescent and halogen lighting can still be efficient and cost-effective, as long as you install dimmers. Dimming decreases energy and heat output and extends the life of the lamps.
Task lighting provides higher, more concentrated lighting for tasks like chopping vegetables and reading. Consider fluorescent (T5), xenon or LED task lights under the upper cabinets.
Kitchen Counter Tops
Think about how you use your kitchen. Too much counter top can waste space that could be used for appliances, seating, storage, or just moving around easily. Too little counter space is inconvenient, and you'll be forced to constantly clean up after yourself.
Here are a few other suggestions:
Beware of new colors and trends in permanent places like your kitchen counter tops. If a certain color catches your eye, try using it on curtains or a throw rug for now to see if you like it.
If you are really in love with marble, don't let an inexperienced designer dissuade you. Marble counter tops take more maintenance than some other materials, and you will have to reseal them now and then. But marble is a classic, natural material and looks beautiful in the kitchen.
Consider our natural travertine stone countertops and floors. It's available in a variety of colors, variations and patterns that will bring character to the room. Not only is it beautiful, but it's easy to clean and barely shows water spots.
Sunrise Remodeling can help you plan and design a kitchen with the style and functionality you desire. We have more than 30 years of experience in the industry and are the leading remodeling company in Lee County and throughout all of Southwest Florida.
To learn more about the kitchen remodeling services we offer in Bonita Springs, use the following links:
Contact us today at (239) 246-9315 for a Free Consultation!