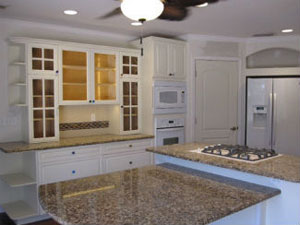 Have you recently moved into a new home and want to make some upgrades or add some personal touches?
Or did you just get tired of your old, outdated cabinets?
Either way, custom cabinets offer the perfect solution.
But where do you find custom cabinets in Cape Coral? And how do you tell real custom cabinets from the not-so-custom ones?
Many local remodeling companies and cabinet providers use the term "custom" for cabinets that are basically outsourced, ordered pre-made from cabinet mills and bulk woodworking factories that are often located hundreds of miles away. These cabinets are shipped to the area in pieces, and then assembled. The only thing custom about them is often the measurements.
At Sunrise Remodeling, that's not what the term "custom cabinets" means. 
Our custom cabinets are planned, measured, and built from scratch in our dedicated Fort Myers cabinet shop.
Sunrise Remodeling is the ONLY remodeling company in Southeast Florida with our own in-house cabinet shop, and it gives us the ability to offer you endless possibilities in size, shape, material, color, and layout.
There are many advantages of true custom cabinets:
Superb quality in both material and workmanship! If you want the finest of materials, you'll have your pick when you go with custom cabinets. And with our dedicated staff of craftsmen, we pride ourselves of our outstanding workmanship.
Made to fit your space exactly! Pre-made cabinets often leaves unsightly gaps because they rarely fit the actual dimensions of most kitchens. That won't happen with true custom cabinets. They'll be made to fit your kitchen exactly. The same is true for cabinets you might want for other rooms, including your bathrooms, closets, playroom, or home office.
Made to fit you exactly! Many off-the-rack cabinets have shelves that are not at the optimal height for the person who is using them. This means you'll have to strain when you're trying to reach something, or even pull up a step stool. Others find that they're simply not using the upper shelves at all, which means a big waste of storage space.

With custom cabinets, on the other hand, you can arrange to have the shelving at the levels that are perfect for you or the person who'll be using the kitchen most often. You can also add things like pullout shelves, especially in lower level shelving, to provide for easier access.
Learn more about the custom cabinet services we offer in Cape Coral at the following links:
Contact us  at (239) 246-9315 for a Free Consultation!