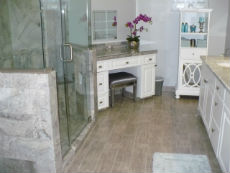 Do you need a bathroom that can accommodate a family member with mobility issues? Maybe you're just planning for your own comfort in your retirement years.
If you're considering bathroom remodeling in Cape Coral, embrace the principles of universal design to be sure your bathroom is safe for everyone, regardless of age, size and ability.
No one wants to face the prospect of growing older, but there are no good alternatives.
Fortunately, today's universal design features are attractive, even spa-like and luxurious, and the most cost-effective time to add some of these features is when you are remodeling or renovating your home.
Universal Design Bathroom Features
Wheelchair Space. To allow adequate room for a wheelchair to make a 180-degree turn in the bathroom, there must be at least 5 feet (60 inches) of open space. There should also be 30" x 48" clear floor spaces at each fixture and 36 inches of open space in front of the toilet.
Curbless Showers. This type of shower, sometimes called a Roman shower, is a wonderful option for people of all ages, but especially those who use walkers or wheelchairs. There is no lip at floor level to step over, allowing easy access for all users. The floor slopes toward the drain to keep the water under control. Curbless showers have become very popular with homeowners who want a contemporary spa-style bathroom, whether or not they have mobility issues.
Grab Bars. These are handy whether the bather is 7 or 70 years old. And bars don't have to make the room look like a hospital room. Today's versions can double as sleek towel holders and will add to the decor of your bathroom.
Slip-Resistant Floors. Increasing the width of the grout lines on the shower floor (and throughout the room, if desired) will create a slip-resistant surface. There are also ceramic floor tiles that are designed to be less slippery when wet.
Shower Seats. Add a built-in seat or corner bench for the convenience of everyone. Aside from adding functionality, they come in handy for storing shampoo and have a stylish, contemporary look.
Hand-Held Showers. Now that you have the shower bench installed, bathers with physical limitations will need a hand-held shower. These are attached to a flexible hose and often feature a pause setting so you can wash your hair without wasting water. They should be placed low enough to reach the feet when you're seated. Hand-held units are also handy for cleaning the shower.
Tall Toilets. Tall toilets are 16 to 18 inches high compared to the standard 14 or 15 inches. The height is more comparable to that of a chair and adds to everyone's comfort. While you're at it, go with no-slam seats and lids. Your small children will appreciate not slamming their little fingers between the seat and lid.
Wall-Mounted Sinks. Consider a wall-mounted sink to provide some extra space underneath for wheelchairs. There are no vanity cabinets or pedestals to get in the way, but you get extra countertop space. If you prefer to keep the vanity cabinet, mount it about 9 inches off the floor to accommodate a wheelchair footrest.
When you're ready to get your bathroom remodeling in Cape Coral underway, we'll be happy to walk you through the many universal design options.
Sunrise Remodeling is the top remodeling company in Southwest Florida, specializing in bathroom and kitchen remodeling, cabinet refacing, and Travertine countertops and floors.
Learn more about the bathroom remodeling services we offer in Cape Coral by visiting the following links:
Contact us today at (239) 246-9315 for a Free Consultation!