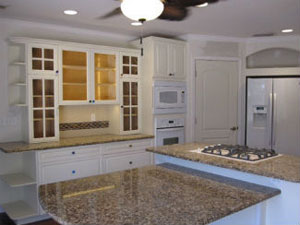 Whether you are remodeling your Fort Myers home or are building a house from the ground up, you most likely have cabinets on your mind.
The options are endless, but custom cabinets don't sit on store shelves.
It can be challenging to evaluate the design options, production quality and installation capabilities of cabinet companies. Sunrise Remodeling can help you find a solution.
Sunrise Remodeling is one of the leading custom cabinet companies in Southwest Florida.
When you decide to update or remodel a bathroom or kitchen, we can provide you with everything from inexpensive, eco-friendly cabinet refacing services to beautiful cabinets that are custom-designed for your unique space.
These are a few of the things that set us apart from less-experienced remodeling companies:
Our reputation is based on honesty and trust.
We have our own experienced team of craftsmen (no subcontractors).
We estimate, build and inspect the work every step of the way.
We deliver consistent, high-quality results.
Our customer service is professional and friendly.
We offer a two year labor guarantee.
There are many types and styles of cabinets, and many homeowners are surprised to discover how confusing and time-consuming the process can be.
While it's not the only decision you'll have to make, it may help to understand some of the differences in cabinet materials.
Solid Wood – Solid wood cabinets provide a look of elegance. They're very sturdy and long-lasting, but more expensive than other types of cabinets. Hardwoods such as red oak, white oak, cherry, maple, birch, ash and pine are among the most popular wood species. Each has its pros and cons, from durability to appearance to cost. Most can be stained to alter their color, but some species are more stain-friendly than others. You custom cabinet maker can help you make the right choice.
Wood Veneer – A veneer is a thin layer of real hardwood that is glued over a core of plywood, particleboard or MDF. This makes it look as though the entire piece was built from a more valuable wood, but veneers are more economical than solid wood. Veneers can also be painted and stained.
Laminates – Less expensive than wood or veneer, laminates are man-made synthetic materials (typically plastic) that are glued onto particleboard or MDF using high or low pressure. The high-pressure variety is more durable and will hold up to heavy usage better than the low-pressure variety. Laminates don't warp, and they resist fading. Laminate cabinets are a great choice for contemporary or modern kitchens.
Thermofoil – Thermofoil is a vinyl film that is applied to a plywood or particleboard base with heat and pressure and mimics the look of real wood better than laminates do. They are easy to care for, and less likely to chip compared to painted cabinets. Take care that the cabinets are constructed with good quality materials, however. If not, the hinges may fall out, and heavy loads or humidity can cause them to warp or bend.
Sunrise Remodeling specializes in custom cabinets, cabinet refacing, kitchen and bathroom remodeling and custom Travertine countertops and floors for customers in Fort Myers. Learn more on the following pages:
When you're ready, get in touch with us for a free estimate and let us help you bring your project in on time and on budget.
Contact us today at (239) 246-9315 for a Free Consultation!