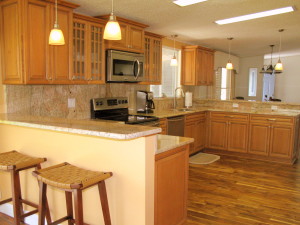 If you've been thinking about home renovations in Fort Myers, Cape Coral, Bonita Springs or elsewhere in Lee County, get in touch with Sunrise Remodeling, the leading remodeling company in Southwest Florida.
Our experienced team has been remodeling kitchens, bathrooms and refacing old cabinets for over three decades.
We are proud to be the trusted choice of many customers in Southwest Florida and are ready to help you transform your home into the dream home you've always wanted.
Sometimes cosmetic work can be enough to accomplish the changes you want—new cabinets, new appliances, etc. Sometimes, it's necessary to do some major surgery, but careful planning and smart choices can keep your costs down.
Money-Saving Home Remodeling Ideas
Go for efficiency instead of size.

You may be able to reorganize the layout of your kitchen to make it more efficient. This will keep you from having to knock out walls. Consider replacing old-style shelves that take up lots of space with super–efficient, custom–designed cabinets that feature dividers, pull-out trays, lazy Susans and racks that will accommodate canned goods without wasting a lot of space.Pull-out drawers for pots and pans are also a great space-saving option.
Avoid using too much recessed lighting.

The more recessed or can lights you install, the more it will cost. There's the cost of the fixtures themselves, but it takes extra labor to cut all the holes and properly insulate them. Consider surface-mounted lights that deliver more wattage to save money on fixtures.
Leave the plumbing where it is.

Changing the plumbing in order to move the kitchen sink or bathroom toilet requires more work and adds to the expense. For example, moving the toilet just 4 or 5 feet can add another $500 to $1,000 to the job. Consider leaving the plumbing where it is and working around it.
Avoid expensive kitchen appliances.

Unless money is no object or you spend hours and hours in the kitchen cooking, don't buy expensive commercial ranges and refrigerators. There a plenty of great-looking, mid-priced appliances available. Start with something affordable and upgrade later. Save your money instead for nice countertops and custom cabinets.
Go for functionality instead of size.

Homeowners often think they need to go for huge kitchens and bathrooms. Not so. Make the space you have as functional as possible. In a shared bathroom, a nice touch that's easy to do is to make a separate room (with a door) for the toilet. If you can't put in a window, install an exhaust fan.This way, several family members can use the space at once and still have some privacy.
Spend on lighting, faucets and hardware.

Plan ahead and install lights during your remodel rather than afterward. It will be far more cost effective. Also consider adding dimmers. You'll be able to control the lighting better. Focus, too, on the faucets and hardware. They will get used daily so they should be attractive but durable.
Planning ahead costs nothing.

Do your research in home centers and big box stores way before you start to remodel.Get a good idea of what kind of fixtures and appliances you want and what they cost. If you don't make these decisions early, you'll have to rely on your contractor's "allowances," or estimates.

These allowances are often too low because you and your contractor will have different ideas. Also, changing your mind midstream could cause project delays.
Before you get started on home renovations, visit our showroom at 11220 Metro Parkway, Suite #2 in Fort Myers to find out the amazing variety of choices and options that are available.
When you're ready to start, call.
Contact us today at (239) 246-9315 for a Free Consultation!