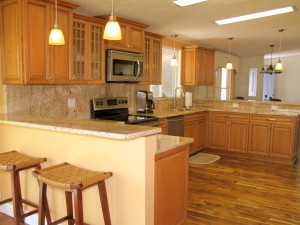 Are you ready to give the kitchen and/or bathroom in your Cape Coral home a whole new look?
Sunrise Remodeling would love to help with your home renovations!
Our 40+ years of experience in the industry makes Sunrise Remodeling one of the most trusted names in Southwest Florida.
We are committed to the highest level of customer service and satisfaction.
We arrive on time, do not subcontract, and provide you with a two-year warranty on our workmanship.
Getting Started with Home Remodeling
No matter what type of home improvements you ultimately decide on, a budget and good planning will determine whether it goes smoothly or is complicated by construction delays, cost overruns and inferior workmanship.
A budget will help you make decisions – not just about the cost of construction, but about what you can spend on fixtures, flooring, tiling, painting and lighting.
Try to avoid surprises.
Depending on the age of your home and how well it was built, look for electrical problems, water damage, corroded plumbing, poor waterproofing, and other hidden problems that will need to be corrected.
Here are some other tips that will help put your mind at ease:
Find the right home remodeling contractor for your job; one that communicates well with you; one that has successfully completed many projects and is eager to show you their completed work. Ask for proof of liability and worker's compensation insurance, and ask for a list of previous customers to evaluate the quality of the contractor's work.
Hire a state licensed contractor who knows the law. Every municipality has building codes and requires permits to keep homeowners safe. Make sure you know what your city requires before you start any significant remodeling, or it could cause problems when the time comes to sell your home. Most Florida cities require a permit when a plumbing fixture is relocated, or for the replacement of bathtubs with showers. Only licensed contractors are allowed to subcontract tradesmen, such as electricians, and all work has to be inspected. Beware of anyone who tells you a permit is not required.
Plan ahead. If you're thinking of selling your home in the near future, incorporate quality workmanship and classic styles into your design. In the kitchen, potential buyers will probably prefer a large open space with well-made cabinets and countertops that are easy to care for. In the bathroom, they may prefer a double vanity to a big claw-foot tub. It's unlikely that you'll want to remodel again anytime soon.
You can never have too much storage. Rooms with limited storage end up looking cluttered all the time. We all need shelves, cabinets, drawers and hooks to absorb the many things we keep in the bathroom. And ample storage in the kitchen is a necessity for people who like to cook. Consider adding deep drawers for pots and pans instead of pullout trays behind cabinet doors, and large drawers under a sink.
Most homeowners go over budget, at least slightly, on home renovations of any kind. Try to build in an extra 15 to 20 percent in case your contractor discovers that your home has dry rot, mold, electrical problems, old plumbing or poor water pressure. Crossing your fingers and hoping for the best is another option, but probably not the best one!
Sunrise Remodeling can bring the home renovations on your Cape Coral home in on time and on budget.
We specialize in cabinet refacing, Travertine countertops and floors, bathroom remodeling and kitchen remodeling, and focus on making sure every detail is expertly installed.
Contact us today at (239) 246-9315 for a Free Consultation!