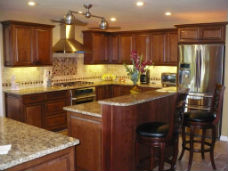 If you are thinking about home remodeling in Bonita Springs, consider working with us!
At Sunrise Remodeling, we work closely with every client from start to finish, guiding you through the many phases of your remodeling project.
From the initial planning and design stage, to permits, framing, plumbing, electrical, glass, tile, flooring, countertops and cabinets, we estimate, build and inspect each step of the work until our customers are completely satisfied.
Sunrise Remodeling has been the leading remodeling company in Southwest Florida for over 15 years, and we've completed hundreds of residential remodeling projects ranging in size and detail.
Our specialties include bathroom remodeling, kitchen remodeling, cabinet remodeling, and custom Travertine countertops and floors.
Whether you're renovating your own home or a rental property for Florida visitors, a little creativity can turn a plain or outdated room into one that is contemporary, efficient and beautiful.
Here are just a few ideas:
Bonita Springs Bathroom Remodeling
Instead of knocking down the walls and expanding (if it's even possible), use the space you have to make the room appear larger by choosing pedestal sinks, tray ceilings and frameless shower stalls.
Change the entire layout and improve the flow by moving a doorway or reconfiguring existing closets.
A double vanity topped with a Travertine countertop can be stunning and add a lot of storage space.
An oversized walk-in shower will make you feel like you're relaxing in a luxury spa.
Universal design features, such as curbless showers, shower benches and comfort-height toilets, provide better safety and accessibility.
Mirrored surfaces, floor-to-ceiling cabinets and glass shower walls will make the space look roomier.
Top off the room with the right color scheme and better natural lighting for a bathroom you'll be thrilled to relax in.
Bonita Springs Kitchen Remodeling:
Are you dreaming of a traditional, modern or contemporary style, Art Deco, French Country, rustic?  Making this decision will help you narrow your options for everything from wall color to cabinet doors.
Replace those avocado green Formica countertops that shout 1970s with modern materials like stainless steel, hardwood, Travertine or even concrete.
If you can't open the oven and refrigerator at the same time, we can help you redesign the space to make it more functional.
Jumbled pots, pans and utensils in cupboards and drawer are a recipe for disaster. Incorporate innovative storage solutions to make meal prep easy and find what you need when you need it.
Tile a backsplash to give the room a clean, contemporary look.
Solid wood cabinets offer a look of elegance and are very durable. Hardwoods such as cherry, maple and alder are a few of the latest popular trends.
At Sunrise Remodeling, we make every effort to stay up-to-date with the latest products and will recommend the best options for your project.
We invite you to visit our home remodeling showroom at 11220 Metro Parkway, Suite #2 in Fort Myers to see the amazing variety of products and designs available today. If you're working with an architect, interior design specialist, kitchen designer or other professional, we can be a valuable member of your team.
Get in touch with us at (239) 246-9315 for a Free Consultation on home remodeling in Bonita Springs, Lee County or anywhere else in Southwest Florida.
We arrive on time, do not subcontract, and provide you with a two-year warranty on our workmanship. Our Angie's List certification is evidence of our commitment to quality work and excellent customer service.
When you trust us with remodeling your home, we take the responsibility seriously!
Contact us today at (239) 246-9315 for a Free Consultation!