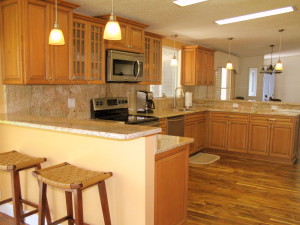 Sunrise Remodeling has 30 years of remodeling experience in Southwest Florida and has become Fort Myers' go-to expert for home improvements.
Instead of tackling your project on your own or with a less experienced company, let us give your home a beautiful facelift or a complete overhaul to make it more comfortable for you and your family.
We are the leading remodeling company in Lee County, specializing in bathroom remodeling, kitchen remodeling, cabinet refacing, and custom Travertine countertops, shower enclosures and floors.
We take great pride in our long track record of success and encourage you to review the comments on our website from some of our previous customers.
No matter which home improvements you ultimately decide to do, a budget and good planning will determine whether it goes smoothly or is complicated by construction delays, cost overruns and inferior workmanship.
Sunrise Remodeling Specialties
Remodeling can be overwhelming, but Sunrise Remodeling takes extra care to provide customers with consistent, high-quality service and makes it a priority to complete your projects on time and on budget. These are just a few of the things we can do to transform your dream into a reality:
Kitchen Remodeling Many homeowners hesitate to remodel their kitchens. They can't afford to knock out walls or buy the latest, greatest appliances and fixtures. Renovating can be expensive, but we are always happy to work within your budget to create the kitchen of your dreams in a cost-effective way.

If you have lots of space to work with, the remodeling possibilities are endless. If you live in a condo with a small galley kitchen or a small home built before kitchens became the central room in the house, however, we can help you redesign the space to be more efficient. It's definitely possible to work within the existing architecture of your kitchen and create a cozy space you'll be proud to show off.
Bathroom Remodeling Most real estate professionals indicate that bathrooms offer the best return on your remodeling investment compared to other home renovation projects. In large metropolitan areas, a remodeled bathroom can return 15% to 35% above the cost when you sell.

A simple bathroom remodel can be completed in as little as one to two weeks. An extensive remodel could take four to six weeks depending on the complexity of the job. Our goal is to get your job completed as quickly as possible without sacrificing quality. And you will be amazed at the endless number of budget-friendly choices available today.
Travertine Countertops, Showers & Floors A type of limestone, travertine has a rich, warm tone with natural beauty and unmatched durability. It lasts for many years. It can be used in everything from traditional to contemporary kitchens and bathrooms and comes in small- and large-format tiles and mosaics. Honed travertine floors are a particularly luxurious option.

Travertine has a naturally pitted surface that is honed (or sanded down) and filled with epoxy resin to smooth it out. One big plus in comparison to ceramic and other stone tiles is that travertine has perfectly straight cut edges. It can be laid end-to-end without the need for grout.

Visit the photo galleries on our website to see the beautiful spaces we have created with Travertine!
Cabinet Refacing Cabinets are an integral part of kitchens and bathrooms, for both style and functionality. If you have well-built cabinets in good condition and are happy with the layout of your room, cabinet refacing is a great solution.

Refacing consists of applying new veneers to your cabinet frames to give them a new façade, and replacing the moldings and hardware. This is typically 50% lower in cost than complete removal and replacement, depending on the materials you choose.

Select from dozens of veneering options and colors, door styles, and trim, molding and hardware options to get a completely new look.
For more inspiration on home improvements, visit our Fort Myers showroom at 11220 Metro Parkway, Suite #2 in Fort Myers to see the amazing variety of products and designs available today.
Contact us today at (239) 246-9315 for a Free Consultation!