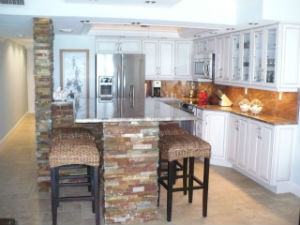 Sunrise Remodeling has been the leading remodeling company in Southwest Florida for more than 15 years.
We have three decades of experience in remodeling bathrooms and kitchens, cabinet refacing, and custom Travertine floors.
If you're looking for inspiration, we invite you to check out our home remodeling showroom at 11220 Metro Parkway, Suite #2 in Fort Myers.
There are so many options available today in paint colors, cabinet styles, counter tops, appliances, tile, shower enclosures, tubs and fixtures.
Your best inspiration will come from home remodeling showrooms, magazines, and the Internet, where you'll find hundreds of remodeling videos, photos and remodeling tips.
You'll be surprised at how many things you can do without gutting rooms and moving walls.
Colors – Colors have a major impact on how spacious or small a room can look. Monochromatic color schemes in white, ivory or cream can create a lovely space that appears larger than it is. Sheer window treatments add to the effect by allowing lots of natural light into the room. If bold is more your style, don't be afraid to use brilliant colors, even in a small room.  Bright wall treatments combined with minimalist floors and fixtures can make a bold statement without overpowering the space. And consider breathing new life into the room by replacing those old-fashioned, speckled bathroom or avocado kitchen counter tops. From Formica to marble to ceramic tiles to beautiful Travertine stone, you can design any imaginable style.
Lighting – More natural light can work wonders in any room. You may not have the option of adding more windows to your kitchen or bathroom, but you can use reflective surfaces, such as ceramic tile, to enhance the existing natural light. A decorative arrangement of mirrors in interesting shapes adds warmth and light to a bathroom. Or make the kitchen more inviting by replacing overhead fluorescent lights with more modern, yet budget-friendly, options.
Cabinets – It's not always necessary to completely replace your cabinetry just to get a fresh, modern look. We can remove the doors, drawer fronts, hardware, and hinges, reface the cabinets with new laminates or veneer, and replace the hardware with a more contemporary style. Homeowners are often pleasantly surprised to find out how cost-effective cabinet refacing can be; it's often about 30% to 40% less than the cost of complete replacement.
Storage – No one ever has enough room in their kitchens or bathrooms for everything they need to store. While open cabinets aren't for everyone, they can make the room look light and airy. Or consider carving out a wall to add some much-needed shelves. There is a wide variety of innovative storage options available today to improve the usefulness of the room.
At Sunrise Remodeling, we guarantee that every detail will be expertly installed.
We'll walk you through the entire process from the initial planning and design stage, to permits, framing, plumbing, electrical, glass, tile, fixtures, lighting, flooring, and other elements and work with you to create a beautiful room that you will love.
Good planning is the key to every successful remodeling project.
Check out our home remodeling showroom, and express your personality with some attractive new fixtures, cabinets and flooring. Then call Sunrise Remodeling at (239) 246-9315 for a Free Consultation, and let us help you create an amazing new look for your home.
Contact us today at (239) 246-9315 for a Free Consultation!